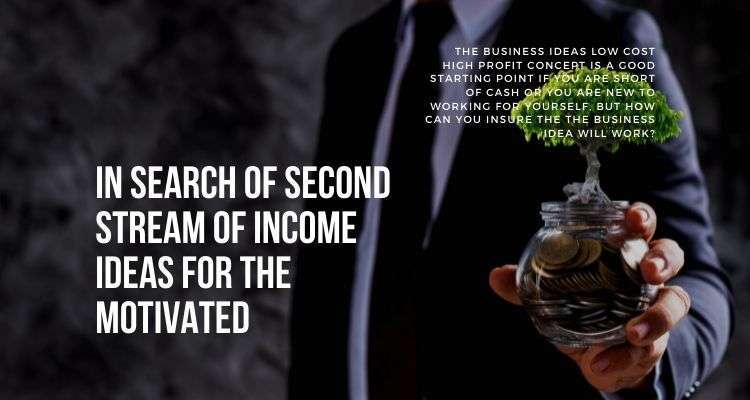 In reality there is no way of really knowing what company, product or service will work for you. I mention in my eBook that your main business needs to be something that you are passionate about. Generally it is not the company itself even though that may help. It is normally the product or service that instals the belief that you want to share this benefit into other people's lives.
However, even though a product or service is going to be the center of your passion, the company you will be working with needs a bigger oversight.
So, is the company a low cost high profit that will also give you success?
What are the best characteristics for a company that has great second income ideas?
The direct sales and home based business industry is booming. Since the pandemic of 2020-2022 it has become an even more important and popular way of making a living from home. However, before jumping into any old business below is a list of characteristics you should consider. Frankly I do not start committing my time or energy to anything before I have reviewed the company.
So, a company should be:
Around 5 years or older. (Start ups are for those who understand the risks, because many start ups go out of business within 6 months)
Offering a great valuable service or useful product.
Affordable to get started. (The price range should be free up to about 100$)
Offering a profession and competent support system. (Of course, the individual that offered you this opportunity should be you first contact, but company support is a must)
Offering a realistic pay plan. (This is sometimes different to evaluate if a company compensation plan works, but if a company has been around a while it probably does)
Offering to reward your recruiting efforts. (This should not mean that you get paid to recruit people into your business, but the best second income stream should allow you to make money from your team for their sales fast)
Seen as an honest broker and have a good reputation among people in the industry. (The expression goes, "All you have is your word and without it you have nothing". This means that a company should be honest, open and transparent.)
A good payer. (If a company rep has been working all month and then there's a delay with their bonuses this is a bad sign. However, good news is that the direct sales companies that have arrived on the scene over the last 15 years pay promptly.)
Always share the latest corporate news about any changes and goals. (I would also suggest that a email should also be sent informing everyone what new in the company)
Run by smart and competent individuals. (I always research the owners of any company I have been considering working with, it is simply good practice.)
One of the best sources of passive income in 2022
There are a few good companies available that offer smart passive income ideas with a low start up fee. One company that has had the respect and trust of others in the direct sales industry is called doTERRA.
What is doTERRA?
doTERRA is an essential oils company founded in 2008. It decided from the very start to do things differently by creating a company that was honest and respected. Since the beginning doTERRA has produced probably the finest and purest essential oil in the world. However, more importantly they offer the most sought after second stream of income ideas in the world.
What makes doTERRA different from the other direct sales companies?
For doTERRA it is all about the oils and how they source them around the world. That means they are conducting sustainable farming, harvesting and distilling practises. However, they are also paying the workers directly even when the farmer is not working. This allows for more sustainable third world development which then allows children to go to school and women to be empowered and financially secure.
In addition, doTERRA runs many global charity projects that help empower women and children and other groups that they feel need their help and support.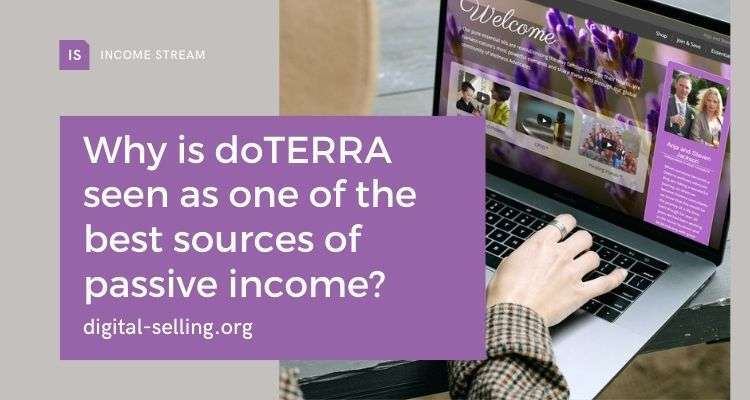 Why is doTERRA seen as one of the best sources of passive income?
Fundamentally customers want to purchase doTERRA products. This is of course a great starting point if you want a second income or for some housewives a first income.
In this article I am not going to go too deeply into the compensation plan because you would all become very bored. So, here is the quick overview.
Making a second income with doTERRA
There are really only two ways of making money with doTERRA.
Retail sales. (Every time you sell a doTERRA product face to face or via your doTERRA shop you get paid 25%.)
Other bonuses. (The other bonuses come once you have enrolled other people into your business. When someone in your downline purchases some product or sells some products you get paid.)
How much does it cost to join doTERRA and a representative?
It is 35$, however depending where you live in the world it could be slightly different such as:
Europe it is 20€ + postage and taxes
United Kingdom it is £20 + postage and taxes
Canada it is 42$ + postage and taxes
Australia it is 50$ + postage and taxes
Note: the basic starter kit does not have any oils included. However, if you purchase a product kit the enrollment fee is waived.
What is included in the basic kit?
The main point of the basic starter kit is to give you a foot up toward a passive income. If you are starting a direct sales business it is important that you have the right state of mind that motivates you to build a second stream income for you and maybe your family.
doTERRA offers a package that will help you achieve that goal.
The basic starter kit:
Your own and personalized website. (This means you can share doTERRA products without leaving your kitchen table)
25% off all doTERRA products.
Loyalty Reward Points. (This is optional, however if you are running doTERRA seriously as a business you will get between 10–30% of order back in points toward your next order)
Shipping Reward Points. (This is similar to the Loyalty Reward Points, but come from the postage cost)
Free Product. (Every time you make an order over 125pv which is about 125$ you receive the product of the month for free)
Bonuses and Compensation. (If you work hard you earn money by creating a second income stream)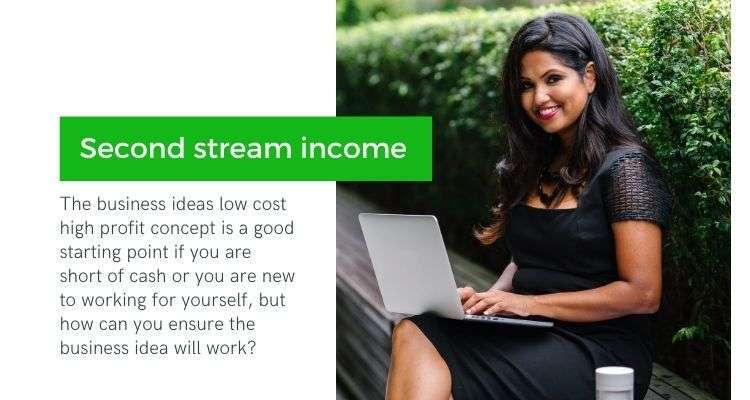 The amount of people that are joining doTERRA everyday is amazing, but more join with the mad expectation of being a millionaire by next Friday. So, in this article I will offer a few tools and platforms that will give a new doTERRA wellness advocate a chance of success.
To make it clear, I have been using these tools / platforms and found them very useful as a selling method. In addition, all of these methods do not suggest that you contact, bully or cajole family or anyone in your social circle.
Creating passive income online
If you are new to direct sales you have realized that many people will tell you that you will need to reach out to your family and friends. This is not the case and personally it hasn't been the case for some years. Some of the traditionalists in the direct sales industry are still saying that the best forms of passive income comes from the deep and personal relationships we have with our downline. I totally agree, however, we disagree on how we build our downline in the first place.
This motivated me to write an eBook on the subject that allows someone new to direct sales and doTERRA to create an income online. The eBook is called "Beginners guide to online prospecting in network marketing", but it adapts well to direct sales or affiliate marketing. The task based eBook takes the student through every step needed to build a doTERRA business online and create a passive income.
Second stream of income ideas found in social media
Even if we are not always happy about reaching out to the people we love, direct sales still demands that we speak to someone. Preferably someone that understands what you are doing rather than someone who does not have a clue.
So, we are looking for:
Someone who is business minded.
Someone who has already done direct sales, network marketing or affiliate marketing in the past.
Someone who is willing to reach out to others.
Someone interested in a second stream of income ideas.
The best FREE platform I have found is MLM Gateway. It is a FREE social media platform similar to Facebook and LinkedIn, however, the members are passionate home based entrepreneurs. MLM Gateway allows you to share your company and products on your profile as well as creating content. It is even possible to build a downline like doTERRA and earn commissions. The main reason to join MLM Gateway is the ability to reach out to like minded people on the platform.
Use a MLM downline building system at the Team Build Club
Another issue wellness advocates in doTERRA find is building a downline. Even though most would agree that doTERRA is one of the best sources of passive income in the industry. There does seem to be an uneven playing field for those who can build a downline to the ones that cannot.
So, how would you like someone else to build a downline for you?
Team Build Club is a relatively new free automatic downline builder platform.
The concept is simple, so this is how it works:
You join and are locked in place.
Anyone that joins after you is placed below you. (Up to 200 targeted leads)
You can contact them and present your business proposal
What is great about Team Build Club is that the people that join are highly motivated to make money. They are looking for a second stream of income ideas wherever they can find them and so you could be next. And by the way, it is FREE and you are able to earn an income if you want.
In this article I have tried to share a low cost business opportunity and some of my methods used in my system. Unless you are a social butterfly creating a second stream business is tough. So, if doTERRA seems like something you want in your life, check out the eBook first.
I have been using the system presented in the eBook for about 8 years with massive success. The areas you will find in the eBook are tried and tested and commit to business ideas low cost high profit concepts needed in direct sales. The other platforms (MLM Gateway and Team Build Club) are very useful and will kick start your doTERRA business by allowing you to find prospects already passionate about a second stream of income ideas as you are.
For more information about one of the best sources of passive income in the direct sales industry. Click on the "Learn More" button below and find out how a low cost high profit company will change your life forever.